La Caseta del Mar
5840577e6839a
La Rábita, Granada
Opciones de alquiler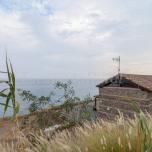 La Caseta del Mar
Entire property (cottage type)
10 personas (4 de ellas en cama adicional)
No. of beds:: 1 double, 4 single, 4 extra
¿Estás seguro de que quieres eliminar este alojamiento de tus listas?
What the owner says
Zamora's house on the coast "La caseta del Mar"

This gated property is situated on the beautiful coast of Andalucía. Its elevated position overlooks the dramatic coastline, with sea and secluded coastal views.

This architecturally restored house has traditional features that marry effortlessly with modern luxury fittings including solar energy, and double-glazed and shuttered windows.

The tall double door entrance leads into a large open-plan living area (72 square metres). There is a comfortable lounge area with choice of sofa, a dining table that seats ten and modern fitted kitchen with gas cooker; substantial fridge freezer, microwave and washing machine. On this level there is also a private double bedroom with shower en-suite.

The impressive staircase leads onto the balcony landing to two private double sleeping areas. Each area also has the facility to sleep up to three children on an elevated platform. Both areas are en-suite, one with shower, and the other with shower and Jacuzzi bath.

Outside, in front of the entrance, there is a large shaded sea view terrace for outdoor dining. Surrounded by extensive gardens there is plenty of room for off road parking. As well as some friendly chickens, there is a private access to the secluded beach just 5 minutes walk from the house.

The house is two kilometres from the small coastal town of La Rábita, is135km from Malaga, 77km from Almeria and 112km from Granada.

Possible flight options are: Malaga, Granada and Almeria.

This property is ideal for exploring much that Andalucía has to offer such as the stunning La Alhambra in the beautiful city of Granada, the 'something for everyone' port city of Malaga, and the bridge over the gorge in Ronda, also the Alcazaba fortress in Almeria and the spectacular Sierra Nevada National Park.

A stay in this beautiful house, together with the warm welcome from Ana, the owner, will be a holiday to remember and treasure.

Enjoy the Andalucían hospitality; experience the real Spain, friendly, fun and welcoming, we feel sure you will return.
Facilities and Services
Outdoors: Barbecue, Parking available, Garden.
Indoors: Washing machine, Dining room, Kitchen, Television, Living room.
Accessibility: Room suitable for disabled guests.
Services: Pets permitted, Internet access.
Location: Beach nearby.
Activities
Water activities: Hiking - trekking, Mountain biking.
Nearby attractions
En los alrededores de La Caseta del Mar podrás visitar:

• Parque Nacional Sierra Nevada.
• Castillo de Guardias Viejas - Dalías.
• Acequia de los Arcos - Villamena.
• Monachil.
• Granada ciudad.
• Almeria ciudad.
• Playa de La Rábita.
Otros usuarios también han consultado
El propietario
Actualizó el calendario hoy
Contact by email