La Calamorcha
0000000004417
Jarilla, Cáceres
Opciones de alquiler
Casa y apartamento
Entire property (cottage type)
16 personas (4 de ellas en cama adicional)
No. of beds:: 4 double, 4 single, 1 sofá cama, 2 extra
La Casa
Entire property (cottage type)
12 personas (2 de ellas en cama adicional)
No. of beds:: 3 double, 4 single, 2 extra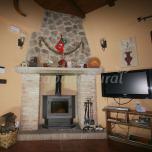 Apartamento
Entire property (apartment type)
4 personas (2 de ellas en cama adicional)
No. of beds:: 1 double, 1 sofá cama
¿Estás seguro de que quieres eliminar este alojamiento de tus listas?
What the owner says
La Calamorcha está formada por una casa de 5 habitaciones dobles (4 con baño incluido) y un apartamento, con capacidad total de hasta 14 personas: 11 en casa (10 + supletoria) y 3 en apartamento (dispone de sofá cama), el apartamento esta incluido como otra casa rural.

Ambos disponen de cocina totalmente equipada, amplio salón, chimenea y comparten porche y jardín con barbacoa.

• Exterior: barbacoa, jardín, muebles de jardín, terraza.
• Interior: aire acondicionado, baño compartido, baño en habitación, calefacción, chimenea, cocina, colección de juegos, comedor, DVD o vídeo, lavadora, lavavajillas, microondas, televisión. Columna de hidromasaje en baño compartido y en apartamento.
• Para minusválidos: habitación adaptada para minusválidos.
• Servicios: cuna disponible, documentación sobre la zona, se sirven desayunos.
• Situación: acceso asfaltado, en el casco urbano, intimidad, zona de montaña.
Facilities and Services
Quality certifications:

Two stars

Outdoors: Barbecue, Patio, Garden.
Indoors: Heating, Washing machine, Ensuite, Stereo system, Air conditioning, Dining room, Games, Television, Shared bathroom, Kitchen, Microwave, Fireplace, Dishwasher.
Accessibility: Room suitable for disabled guests.
Services: Cot available, Internet access.
Location: Outside village centre, Paved driveway, Ski slopes nearby.
Activities
Water activities: Fishing, Canoeing - Kayaking, Canyoning.
Air activities: Paragliding .
Motor activities: Four-wheel drive.
Water activities: Wine tourism, Mountain biking, Cata de vinos, Cuisine trails, Mushroom picking, Hiking - trekking, Horse riding, Skiing.
Entre la actividades de la zona, ven a practicar alguna de las siguientes:

• Parapente en el Pico Pitolero
• Senderismo por las rutas del Ambroz o la comarca de Granadilla.
• Rutas micológicas.
• Actividades del Otoño mágico en el Valle del Ambroz.
• Otros deportes multiaventura.
Nearby attractions
Apúntate la numerosa lista de lugares de interés que puedes visitar:

• Comarca de Trasierra: Cáparra (centro de interpretación), Granadilla (pueblo abandonado)
• Plasencia (24 km): Catedral, parador, zona monumental, museos
• Valle del Ambroz (15 km): Hervás (barrio judío), Baños de Montemayor (balneario),…
• Parque Natural de Monfrague (45 km)
• Valle del Jerte (35 km): Cerezo en flor.
• Las Hurdes (40 km)
• Sierra de Gata (60 km): Robledillo de Gata, San Martín de Trevejo,…
• Sierra de Béjar (40 Km): La Covatilla (esquí), Candelario,…
• La Alberca (55 Km): Pueblo típico de arquitectura popular.
• Valle del Alagón (60 km): Coria (catedral), Galisteo (picota, muralla)
Recent reviews
5c864b3589974
https://www.rurality.com/review/user-profile/529322eb5f25a
Almudena Per...
"

Una casa perfecta para grupos grandes

"
Reviewed on
Estuvimos este fin de semana pasado alojados en la casa, eramos 7 adultos y 5 niños y cupimos perfectamente. Además dispone de todas las comodidades,...
View full review
5b0b22a6e5ccf
https://www.rurality.com/review/user-profile/5b0b22a5d11e3
Carmen Saez
"

Expectacular

"
Reviewed on
Estuvimos en la casa u grupo de amigos y es expectacular, la limpieza es exquisita al igual que la atención de la propietaria. Espero poder...
View full review
Carmen y Justo
El propietario
Más de 30 años haciendo dulces..., no podíamos estar quietos..., La Calamorcha...más
Más de 30 años haciendo dulces..., no podíamos estar quietos..., La Calamorcha es una razón de nuestra forma de ser. el jardín, la decoración, ... realizado por nosotros para disfrutarlo con vosotros.
Actualizó el calendario hace 12 días
Contact by email