Casas Rurales Maury
0000000009506
Casas Rurales Maury
4.5
11
El Barraco, Ávila
Opciones de alquiler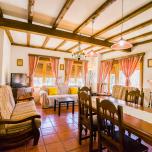 El pantano A
Entire property (cottage type)
8 personas
No. of beds:: 2 double, 4 single
Pantano a
Entire property (cottage type)
4 personas
No. of beds:: 1 double, 2 single
Pantano b
Entire property (cottage type)
4 personas
No. of beds:: 1 double, 2 single
What the owner says
Casas Rurales Maury te ofrece un conjunto de casas, ubicadas en las estribaciones de la Sierra de Gredos, en la comarca del alto Alberche. En concreto se encuentran en el municipio de El Barraco.

Casas de piedra grandes y bonita, en el Barraco y Pantano del Burguillo, de 2 a 42 plazas. Para más información, llamar al número de contacto y preguntar por Maury.

Casas del Pantano

Casas en el Pantano del Burguillo de 4 y 8 plazas con piscina, zona verde y terreno, especial para familias y grupos.

A 28 km de Ávila en las estribaciones de Gredos ,cerca reserva natural Valle de Iruelas, a 1 hora de Madrid, 1 hora y poco más de Salamanca, Segovia,Toledo y Valladolid.

Posibilidad de actividades acuáticas.
Piscina cubierta durante todo el año.
Facilities and Services
Quality certifications:

Three stars

Outdoors: Barbecue, Parking available, Patio, Pool, Garden.
Indoors: Fireplace, Heating, Ensuite, Television, Microwave, Washing machine, Kitchen.
Services: Pets permitted, Cot available.
Location: Woods nearby, Mountain, Lake nearby, Paved driveway.
Activities
Water activities: Boat trips, Water skiing, Fishing, Sailing, Canoeing - Kayaking.
Water activities: Cuisine trails, Mountain biking, Mushroom picking, Paintball, Multi-adventure sports, Airsoft, Hiking - trekking.
En la misma casa no tenemos actividades programadas, pero existen actividades a realizar en las cercanías:

• Observación de la naturaleza.
• Visitas de carácter cultural.
Nearby attractions
Recomendamos algunos lugares para visitar en la zona:

• Monte Encinar.
• Pesquera La Garganta.
• Pantano del Burguillo.
• Museo de la Naturaleza "Valle de Alberche".
Recent reviews
59e5c9f0c1e4b
https://www.rurality.com/review/user-profile/59e5c9f055c33
M.david Avil...
"

Lugar para relajarte

"
Reviewed on
Nos hemos alojado en el puente del Pilar, y tanto Maury como Roberto nos han tratado muy bien, incluso nos han ofrecido gastronomía del lugar...
View full review
59426df0d55f5
https://www.rurality.com/review/user-profile/501ccd30b7c1b
Luis-ángel A...
"

Tranquilidad y relajación

"
Reviewed on
Un lugar muy tranquilo y perfecto para relajarse, con agua pues tiene piscina cubierta y el pantano de El Burguillo a unos metros y además tienes...
View full review
El propietario
Actualizó el calendario ayer
Languages: Spanish and Portuguese.
Contact by email