Where are you getting away?
Some of the dream holiday cottages
Prev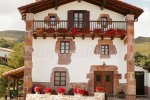 Navarra
Less than 20 € pers./night
Huesca
30 - 39 € pers./night
Cuenca
20 - 29 € pers./night
Next
Alojamientos con Atención excelente
Elige propietarios apasionados que cuidan lo importante (Más info)
Prev
Casa Rectoral de Areas
Pontevedra
Mas Xerragast
Girona
El Olivar del Marques
Cáceres
Casa Calderón
Asturias
Casa Rural La Urraca
Sevilla
Casa Mora, La Mata, La Llaguna...
Lleida
El Caminero
Ávila
A Madriña
Pontevedra
Casa Rural la Dehesa de Toledo
Toledo
La Florentina
Segovia
Cortijo Brazal La Ventaja
Granada
Next
How does Rurality work?
Find your dream accomodation
We offer you Europe's largest search engine
of holiday cottages and vacation rentals.
Direct contact with the owner,
no intermediaries and no commissions.
Organise your holiday break
Save cottages and destinations
in the Wish List.
Which villages and spots would you like to visit? Check out our travel guides.
How was it? Review and share
What was the property like? Reviews help
improve vacation rentals.
Discover and let other users like you
discover with your Traveller Profile.
The most popular destinations for holiday cottages
These are the searches travellers like you have made to find their dream cottage.